You may want to consider a business in selling brooms to the western world as hand made African brooms now sell for as much as N12,600 on ebay, one of the leading online stores in the world.
A fairly-used broom, which typically sells at less than $1 in Nigeria was put up on ebay for $34.95 by a seller in the US — an equivalent of N12,600 at parallel market rate.
Describing the broom, the seller said "what we have is a Wonderful Genuine Vintage Handmade African Broom in Excellent Condition".
"We got this from a Ol' Gal that lived in Africa for 10 years and this was made for Her back in the early 70's and she used it for years to sweep out her Hut. And the Brought it Back with Her when she moved back to the States. It is still in Excellent Usable and Very Collectible Condition.
"This is a Vintage / Used item, and is sold AS-IS. It may show signs of wear and use including, but not limited to: stains, scratches, marks, fuzz, piling, abrasion, etc.
"Please refer to pictures and description for complete details. We have done our best to accurately describe the item in detail. Please feel free to contact us if you have any questions or would like to see additional pictures. As this is is a USED/ Vintage item, we can only accept returns in the event of complete misrepresentation."
Another seller in the UK, who has 100 percent positive feedback, also put up a brand new broom for $26.43 in the country.
Typical African brooms are made from palm fronds and tightly held by either a black rubber material or softer portions of the palm front.
Brooms are used for cleaning, but also seen as a political symbol in Nigeria and India.
The All Progressives Congress (APC) of Nigeria and the Aam Aadmi Party of India both use brooms as their political symbol.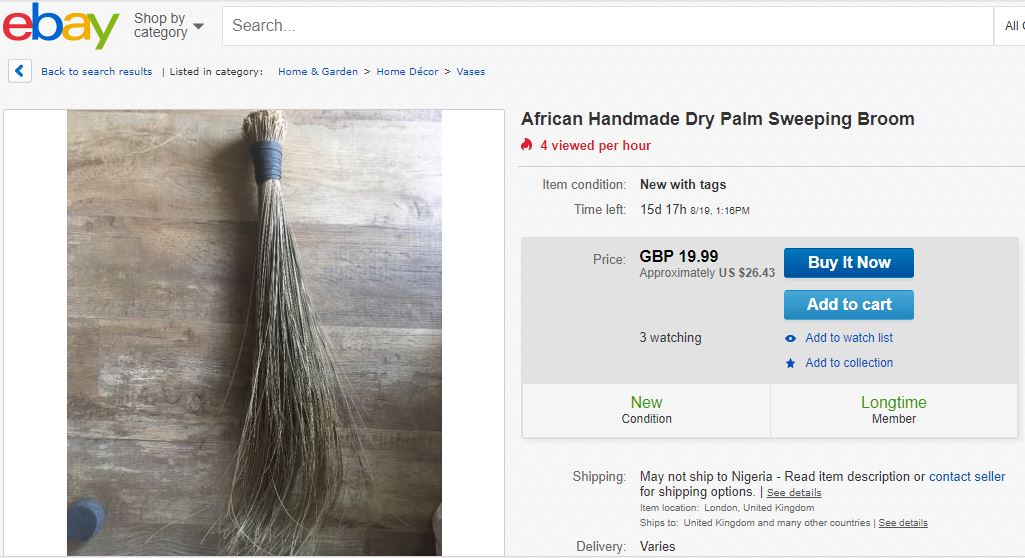 see How I Increased my Manhod Size & Stopped Premature Ejaculation That almost Scattered My Relationship.. Click HERE For Details.

Free Website Design tutorial. No Coding